What is a Mother Blessing and why choose to do one?
The idea of a mother blessing is inspired by a ceremony called a blessing way from the ancient Navajo women of North America. It is a ceremony of support and rite-of-passage to mark the important, and life-changing transformation that the pregnant woman is about to embark.  A mother blessing gives a similar sense of support for the mother-to-be through an intimate, spiritual, and ritualistic gathering of the pregnant woman's closest family and friends. Unlike a traditional baby shower, where the focus is on the baby and bringing gifts for the baby, a mother blessing focuses solely on supporting, empowering and encouraging the mother-to-be through this important transition into motherhood. The idea is that she walks away from the gathering feeling filled with love and support. In some form or another this type of ceremony is celebrated all over the world, by all different cultures.
What can you expect at a mother blessing?
Whether you want to keep it simple in your living room or lavishly decorate a grand space, there are no rules when it comes to how you want to organise a mother blessing. This sacred, honest, and beautiful gathering of intention can be celebrated in many ways but always includes a series of rituals and ceremonies that celebrates life and honours the pregnant woman's strength.  Often an alter or small space is set up to honour the pregnant woman which can include items like candles, flowers, a plaque, ornaments, and/or photos which can be placed in the centre of the circle or off to the side. It also usually involves the guests bringing one or two items to be used as part of the chosen ceremonies to celebrate the mother-to-be.
What are some of the rituals and ceremonies included in a mother blessing?
Guests are asked to bring / write poetry, prayer, or stories about birth and/or motherhood to read and share.
Songs
A special song written about or for the pregnant woman.
Meditation
Guests sit in a circle and close their eyes and meditate together either to music or a pre-written meditation. This creates a powerful, uplifting, positive and relaxing space and energy for the pregnant woman and her guests.
Beads
Guests bring a bead that symbolises birth/motherhood which is then made into a bracelet to be worn by the pregnant woman during labour as a reminder of all the love and support she has from her friends and family.
Ribbon
A piece of string/ribbon is tied around each guests wrist to be cut once the baby is born to show unity, strength, and support from the group for the mother-to-be.
Henna
The mother-to-be has her pregnant belly painted with Henna or non-toxic paint to celebrate her strength and creativity.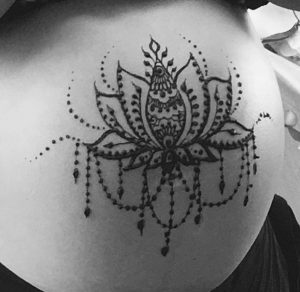 Aromatherapy Foot Massage
Each guest brings either a flower, herb, or essential oil to be placed in a bowl with Epsom salts and the pregnant woman places her feet inside the bowl and receives a relaxing aromatherapy foot massage from her friends and family.
Candles
Each guest takes a candle home to be lit when the pregnant woman goes into labour. This is also usually accompanied with a prayer, affirmation, special thought, or mantra for the mother-to-be upon lighting the candle to create a positive birthing energy for the mother.
Flowers
Each guest is asked to bring a flower which is made into a flower crown to be placed on the mother-to-be's head.
Sage
The burning of sage is said to clear negative thoughts and energy.
Food
Guests are asked to bring a meal that can be kept in the freezer for the mother to eat postpartum. 
Why choose a Mother Blessing?
During the whole pregnancy it is usually the baby that gets all of the focus and attention and not the woman who is growing the baby. It is so important to acknowledge, honour and celebrate women, especially during such a transformational time as the journey into motherhood.
And that is what a mother blessing is all about. It's about being present and supportive, and creating a space for the pregnant woman to feel held, loved and celebrated. It's about acknowledging that the transition into motherhood is physical, spiritual and emotional and helping her prepare for that transition by inspiring and encouraging the mother-to-be through the rituals and ceremonies of a mother blessing.
Whilst physical gifts aren't usually brought to a mother blessing, like a traditional baby shower, the gift of love and support, and the bonds that are formed through the ceremonies, is seen as a lot more fulfilling and long lasting for the mother and her close circle of friends and family.
As the saying goes, "it takes a village to raise a child", but the village is often lost in Western culture. A mother blessing brings "the village" back together and creates the foundation for support, allowing the mother-to-be to go into labour bursting with love and strength, knowing that she is supported by her "village".
I spoke with a Perth mother, Marie, and asked her about her reasons for choosing to have a mother blessing and she simply stated that she wanted to connect with her closest friends and family, in a non-commercial way, and celebrate her transition into motherhood, upcoming birth and arrival of her baby. When she fell pregnant she was drawn to natural birth and attachment parenting and after reading books of that nature and following like-minded women on social media she learnt about the concept of a mother blessing and felt it suited her a lot better than a traditional baby shower. 
Marie's mother blessing was very spiritual and the day was structurally planned out. Her guests arrived with labelled dishes of food which were put in the freezer for Marie to enjoy postpartum.
To start off the celebration on a fun note, Marie's friends were directed to a henna station where they enjoyed getting creative with henna tattoos. They all then settled in and gathered together for lunch. After lunch, Marie's friend gonged her Tibetan bowl and invited everyone to gather in a circle outside to start the ceremony.
A candle was lit, the space was saged and meditation music played. Words of intention were read out and one of Marie's friends walked around the circle saying "Let us take care of our children, for they have a long way to go. Let us take care of our elders, for they have come a long way. Let us take care of those of us in between, for we are doing the work".
The next part of the ritual was about pampering Marie. She had her belly tattooed with Henna and her friends added flowers to a bowl of bath salts, essential oils and flower petals and washed Marie's feet. Messages of encouragement and tips for motherhood were written by her friends and placed in a box for Marie to read during labour which reminded her of all the support she had and gave her strength. 
The women then presented a bead that they each brought to the mother blessing which was made into a necklace for Marie to wear during labour as another reminder of support from the women in her life. 
The circle was then closed with a beautiful prayer written and read out by one of Marie's friends. "Today we have succeeded in forming a beautiful sacred space for Marie's mother blessing. The strength and energy we have helped Marie to raise is shining inside her and radiating out for all of us to see. The power of the feminine spirit has been unveiled in each of us today. May we carry the knowledge and gifts we've received into everything we do from this day on. Let us stay connected to Marie, creating a cradle of support, as she awaits her birthing day and beyond, as she learns to mother her new baby. This has been a powerful day."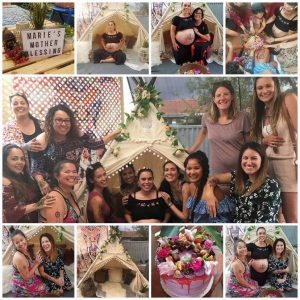 The alter candle was then blown out and the women enjoyed tea and cake.
Each of the women took a candle home with them to light and said a prayer/ mantra when they received a text message that Marie was in labour. 
So whether it's your first or fifth pregnancy and you're wanting to celebrate but are looking for something different than a baby shower, this mother-focused gathering will help form bonds and unite a circle of support for you once the baby is born. Be celebrated, be uplifted, be honoured, be encouraged, and be empowered by the close circle of women in your life.
My name is Cara Besomo and I am a doula who has trained at the Doula Training Academy. If you would like more information about my doula services please contact me:
Phone: 0481282040
Email: [email protected]
Facebook: http://www.facebook.com/mamanurturerperth
Website: www.mamanurturer.com.au
References
http://blog.pathwaystofamilywellness.org/
https://www.thebump.com/a/mothers-blessing-way
https://www.mother.ly/lifestyle/how-to-have-a-mother-blessing
Images provided with permission by Marie Niko